Today is Wednesday, May 25, 2022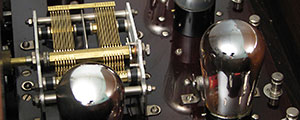 My name is Steven Johannessen and I am an artist and antique radio collector. One of my passions is for restoring and maintaining the antique radios which you can see in this gallery. My own lifelong interest in vacuum tube technology coupled with what I have learned from working with antiques has allowed me to restore many of these fine early radios to almost new, working condition. New radios will be added to the gallery, so bookmark this site and come back again to see them.
This collection was started in 1997 and went online in 2007 as part of MiddleOfNowhere.com, my art and music website. Please visit if you have time - you won't be disappointed! The radio collection gallery was moved to it's current location - StevenJohannessen.com - in May 2011. Please feel free to contact me with any comments or inquiries about the collection or this website. Thank you for visiting this site and for your continued support!